Manufacturer
Inkworks
Category
Trading Card
Packs per Box
36
Cards per Pack
8
Card in Set
81
Content
General Audiences
Release Date
Oct 22, 1997
Release Status
Released
Genre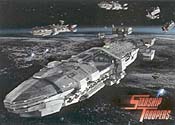 In the future, the rules will change. Enter a futuristic world where citizenship is a privilege, not a right -- where alien bugs have declared war on humanity, and the young military troopers of the mobile infantry are ordered to continue fighting the enormous alien insects until one side wins, regardless. Enter the world of Starship Troopers. The battle begins with the premiere of the blockbuster movie this November, and Inkworks covers all the outrageous action and over-the-top effects in their premium trading card series, Starship Troopers, available on October 22.
Starship Troops is the masterpiece of science-fiction film diector, Paul Verhoeven, who made his mark with such classics as RoboCop and Total Recall. The $100 million epic is being jointly produced by Sony's (Men In Black) TriStar Division and Disney. Using a mix of live-action and amazing computer-generated special effects, the producers have employed the best in the industry to produce a sci-fi adventure film with cutting-edge special effects that will keep viewers on the edge of their seats!
The movie is based on Robert Heinlein's 1950 classic novel, Starship Troopers. It chronicles the military life of Johnnie Rico, from his enlistment in the Federal Service through his intense boot camp training and battles, culminating in the intergalactic "Bug War," the outcome of which could lead to the extinction of humankind.
Inkworks' Starship Trooper Premium Trading Cards highlight the entire movie story from start to finish with 81 cards, and every movie photo card is backed by the original storyboard that inspired the scene -- a trading card first!!
The Starship Troopers series features the following subsets: Earth's Future -- A behind-the-scenes look on how the most grueling interstellar battles were translated from book to screen. Trooper Profiles -- Features futuristic vehicles, intergalactic weaponry, gruesome alien bugs and more!
In addition to the subsets, three fantastic levels of bonus cards are included in this series, each embossed to provide "in-your-face," three-dimensional action! They include: Bug Wars -- Nine embossed cards featuring the alien insects fighting the troopers in computer-enhanced battle scenes (1:11 packs). The Art of Starship Troopers -- A one-of-a-kind unpublished piece from Dark Horse Comics adaptation painter, Denny Beauvais. Collect all four foil-stamped embossed cards to complete your puzzle (1:17 packs). Starship Gold -- Two phenomenal Starship Storyboards, completely foiled and embossed (1:54 packs).
The Starship Troopers collector cards come eight cards to the pack for a suggested retail price of ONLY $1.79. They are available in comic, music and hobby shops as well as select retail outlets.
Available Items

All items for this release are out of stock.