Manufacturer
Topps
Category
Trading Card
Packs per Box
24
Cards per Pack
7
Card in Set
80
Content
General Audiences
Release Date
Nov 06, 2009
Release Status
Released
Genre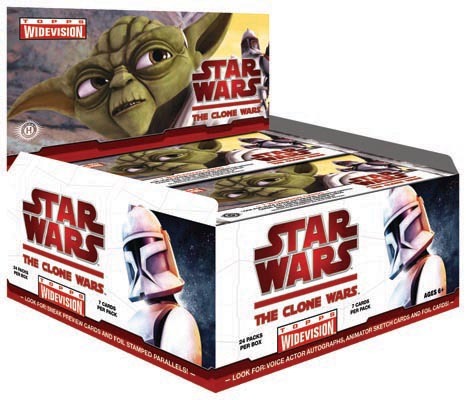 80 Topps Widevision Cards shjow you every incredible episode of The Clone Wars Season 1 in it's full, original Widescreen aspect ratio. Each card back contains trivia, quotes, episode guides and info to give you a close look at the top-rated Cartoon Network TV series.

Multiple levels of super-collectible inserts include:
* Foil Character Cards (1:3 packs) - feature profiles of the show's main characters
* Flix Pix (1:8 packs) - Motion cards that contain all the action of the TV show!
* Animation Cel Clear Cards (1:4 packs) - Transparent, premium-quality plastic cards
* Season 2 Sneak Preview Cards - Images of the upcoming Star Wars: The Clone Wars Season 2!
* Sequentially Numbered Silver Foil Stamped Parallels (numbered to 500)
* 1/1 Gold Foil-Stamped Parallels and Sketch Cards (1 per box).

Hobby Exclusives include:
* Sketch Cards - 1/1 Original hand drawings by taoday's top sketch artists. the first ever Widevision sketchs!
Katie Cook, Braden LambLeah Mangue, Mark McHaley, Scott Simmons, Stephani Yue, and more
* Animator Sketch Cards - by the actual animators of the show
* Autographs - signatures from the show's voice actors: Matt Lanter (Anakin Skywalker), James Arnold Taylor (Obi-Wan Kenobi), Ashley Eckstein (Ahsoka Tano), Catherine Taber (Padmé Amidala), Tom Kane (Yoda), Anthony Daniels (C-3PO), Corey Burton (Count Dooku), Ian Abercrombie (Chancellor Palpatine), Terrence Carson (Mace Windu), Nika Futterman (Asajj Ventress), Matthew Wood (Battle Droids), David Acord (A-4D Droid), Dee Bradley Baker (Clone Troopers)

7 cards per pack, 24 packs per box.
Insert Cards
Qty
Name
Odds
13
Autograph [Hobby]
Season 2 Sneak Preview
1:2
Foil Character
1:3
Animation Clear Cel
1:4
Animator Sketch [Hobby]
1:4
Flix Pix Motion
1:8
80
Silver Parallel
silver, foil-stamped and sequentially-numbered to 500
1:17
Sketch [Retail]
1:48
80
Gold Parallel
1/1 gold foil-stamped parallels
1:8222
Sketch [Hobby]
1:box
Available Items

All items for this release are out of stock.