Manufacturer
Breygent Marketing Inc
Category
Trading Card
Packs per Box
24
Cards per Pack
6
Card in Set
72
Content
General Audiences
Release Date
Jun 26, 2009
Release Status
Released
Genre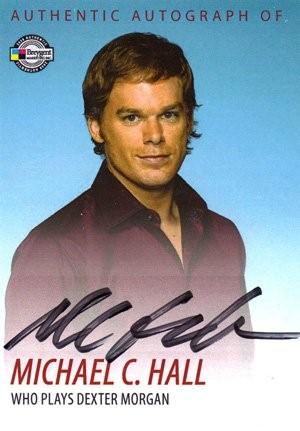 Based on season 1 and 2 of the Showtime drama about Dexter Morgan, a serial killer with a strict moral code. this set is packed with extras including autographs, props, costumes, sketches and foils.

Sketch, Costume and Prop incentive cards are encapsulated and graded by Beckett. Inserted sketches and autographs are sleeved in the packs. Print run is limited to 275 cases with boxes numbered to 3,300. According to Beckett, the grading distribution is:

Dexter Morgan DCI1
8.5 - 142
9.0 - 114
9.5 - 38
10 - 0
Blood Slide DCI2
8.5 - 9
9.0 - 26
9.5 - 29
10 - 0

Randomly inserted in cases are loaded boxes labeled "Loaded box with 11 autographs and 1 sketch card"

There will be a special Comic Con 2009 box of Dexter. As explained by Tom Breyer, "I am going to be at the show and have offered the 6 dealers that sell my products a special box.This will be a white box with red foil and be like the Marilyn Monroe update box i did.The box will have 1 set, 6 chase cards (same as set coming out this week but with red foil on them) 2 hits per box either 2 costume or sketch and costume."

A Limited Edition Collector's Set was also available at San Diego Comic Con 2009. Each deluxe numbered boxed set contains one 72 card set, 7 Parallel case cards with "Dexter The Killer" in red foil (of 27 total), 2 Costume cards (of 3 total), and a sketch card drawn by one of 7 artists. Artists include Jason Carrier, Kevin Graham, Charles Hall, David Desbois, Trev Murphy, Steven Miller and Brian Kong. All chase cards are randomly inserted. 18 rare prop cards were also inserted. Only 400 numbered boxes were produced.

You can tell the sketch cards apart because the regular set is copyright 2008 while the Comic Con sketches are copyright 2009.

There was a problem with the glue batch used on some of the costume cards that has caused them to seperate. If you encounter a problem, Breygent will gladly exchange them.
Insert Cards
Qty
Name
Odds
Promo
21
Costume
1:13
6
Behind The Scenes
1:24
4
Dark Defender
1:24
2
Dexter Dream Scenes
1:24
2
Dexter Group
1:24
4
Dexter Portraits
1:24
6
Dexter The Killer
1:24
4
Dexter's Relationships
1:24
11
Autograph
1:48
5
Prop
1:96
Sketch
2 Artists: Frank Miller, Sean Pence
1:case
1
Retailer Incentive (3)
Dexter Duo Costume
1:3case
1
Retailer Incentive (6)
Sean Pence Sketch
1:6case
1
Retailer Incentive (10)
Blood Slide Prop (numbered to 72)
Only 72 Made
1:10case
Available Items

All items for this release are out of stock.