Manufacturer
Rittenhouse Archives Ltd
Category
Trading Card
Packs per Box
24
Cards per Pack
5
Card in Set
63
Content
General Audiences
Release Date
Jun 17, 2009
Release Status
Released
Genre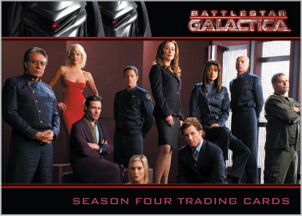 Relive the action, the drama, the struggles and the victories of the final season with Rittenhouse Archive's Battlestar Galactica Season Four trading cards. Each box will contain TWO autograph cards and TWO relic cards as well as at least one 63-card set covering all 20 episodes from the fourth season.

Rittenhouse Archives has put together an impressive list of autograph card signers, including key stars and guest stars.

• Edward James Olmos as Admiral William Adama
• Jamie Bamber as Lee Adama
• Michael Hogan as Saul Tigh
• James Callis as Gaius Baltar
• Katee Sackoff as Kara Thrace
• Rekha Sharma as Tory Foster
• Stephanie Jacobsen as Kendra Shaw
• Kate Vernon as Ellen Tigh
• Bodie Olmos as Brendan 'Hot Dog' Costanza
• Nicki Clyne as Cally Tyrol
• Matthew Bennett as Aaron Doral
• Leah Cairns as Margaret "Racetrack" Edmonson
• Colby Johannson as Lt. Dwight 'Flat-Top' Saunders
• Colin Lawrence as Lt. Hamis 'Skulls' McCall
• Dominic Zamprogna as James "Jammer" Lyman
• Colin Corrigan as Allan Nowart
• Leela Savasta as Tracey Anne
• Aleks Paunovic as Omar Fischer
• Andrew McIlroy as Jacob Cantrell
• Rick Worthy as Simon
• Keegan Connor Tracy as Jeanne

Along with regular autograph cards Rittenhouse Archives has included 6 different autographed costume cards signed by Jamie Bamber, Nicki Clyne, Matthew Bennett, Leah Cairns, Rick Worthy and Rekha Sharma!

In addition to autograph cards, each box will contain TWO relic (costume and/or prop) cards! Collectors will find both single and dual costume cards from major characters including William Adama, Lee Adama, Cally Tyrol, Elosha, Tory Foster, Doral, Simon, Carolanne Adama, Racetrack, Jean Barolay, Shevon, Phelan, Laura Roslin, Cavil and more! Along with costumes, the Battlestar Galactica Relic cards will include for the first time, four authentic props from the episodes "Razor", "Lay Down Your Burdens", "Unfinished Business" and "A Disquiet Follows My Soul".

Rounding out this set are several chase subsets including

* Final Five - A 5-card set analyzing the final known humanoid cylon models.
* Razor - 9-cards recap of the 2-hour Battlestar Galactica Razor special!
* Cast Gallery - 9-card set featuring the cast of Battlestar Galactica.
* Shelter Posters - 3-card set utilizing the advertising promotion art from the show.

Each case will contain an exclusive autograph case topper card signed by David Eick, the show's executive producer.

An exclusive collector's album will also be made available for Battlestar Galactica Season Four Trading Cards and will come with an exclusive promo card.

As an added bonus, for every 2 cases purchased you will receive a dual autograph card signed by Michael Hogan and Kate Vernon as Saul and Ellen Tigh. For every 4 cases purchased you will receive an autograph/costume card signed by James Callis as Gaius Baltar.

Limited to 5,500 numbered boxes.

There is an error version of promo P2 which was shipped in Non-Sport Update Magazine v20#5. Approximately 10% are numbered incorrectly as P1.

On June 30, 2009, Rittenhouse added a new rewards card. The 10th card in the gallery chase set is available for 300 points.
Insert Cards
Qty
Name
Odds
6
Autographed Costume
4
Promo
9
Razor
recap of the 2-hour Battlestar Galactica Razor special
1:8
21
Autograph
1:12
31
Costume/Relic
Costume or Prop
1:12
5
Final Five
analyzing the final known humanoid cylon models
1:12
9
Cast Gallery
featuring the cast of Battlestar Galactica
1:24
3
Shelter Posters
utilizing the advertising promotion art from the show
1:144
1
Case Topper
signed by executive producer David Eick
1:case
1
Retailer Incentive (2)
dual autograph from Michael Hogan (Saul) and Kate Vernon (Ellen Tigh)
1:2case
1
Retailer Incentive (4)
Jamie Callis (Gaius Baltar) autographed costume
1:4case
Available Items

All items for this release are out of stock.