Manufacturer
NECA
Category
Trading Card
Packs per Box
24
Cards per Pack
6
Card in Set
72
Content
General Audiences
Release Date
Nov 2008
Release Status
Released
Genre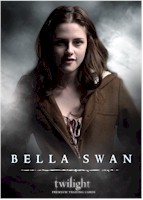 Inkworks announces a new trading card release for Summit Entertainment's upcoming movie TWILIGHT, that opened nationwide on November 21, 2008. Directed by Catherine Hardwicke, TWILIGHT is an action-packed, modern day love story between a teen-aged girl who falls in love with a "good" vampire who must protect her from the "bad" vampire while resisting his natural instincts. Based on the New York Times Bestselling series by Stephenie Meyer, TWILIGHT is a cultural phenomenon not seen since the likes of Harry Potter, with a devoted fan base that eagerly awaits this movie.

This premium trading card collection will include scenes from the movie, character cards and much more. In addition to the 72-card base set, collectors will be able to find a variety of randomly inserted bonus cards including: 9-card "Always" puzzle (1:11), 6 "Different" (1:17), 3 "In Pursuit" (1:23), 1 "Protector" (1:case), and 12 Pieceworks® (1:24). Previously announced autograph cards were canceled.

After Inkworks went out of business, the printing plates were sold to NECA who printed a run of retail boxes carried in chains without the Pieceworks® cards for $1.99 per pack. The cards are identical, including the insert ratios, except the Inkworks logo has been replaced with NECA. The NECA set was released June 12, 2009.
Insert Cards
Qty
Name
Odds
1
Hot Topic
Hot Topic Exclusive randomly inserted in specially marked boxes
5
Promo
9
Always
puzzle
1:11
6
Different
1:17
3
In Pursuit
1:23
12
Pieceworks
Hobby boxes only
1:24
1
Case Loader
1:case
Available Items
Name
Price
box
Twilight Box (NECA)
These packs contains no Pieceworks inserts
$79.95
Add To Cart