Manufacturer
Rittenhouse Archives Ltd
Category
Trading Card
Packs per Box
24
Cards per Pack
4
Card in Set
50
Content
General Audiences
Release Date
Sep 26, 2007
Release Status
Released
Genre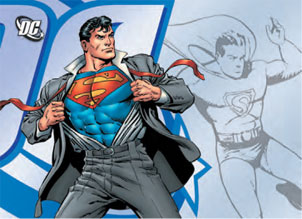 The first DC Comics Trading Card Set to feature SUPERMAN, BATMAN, WONDER WOMAN, GREEN LANTERN, FLASH, AQUAMAN, and other legendary DC characters as they have appeared in comic books from the 1930s to the present! This limited product run of 10,000 boxes includes a stunning 50-Card Base Set will featuring UV-etch printing to bring each character's rich history to life! Each box of this ground-breaking series will contain ONE hand-drawn colored Sketch Card - a first for any DC trading card series!
Look for randomly inserted Gold Parallel Cards, First Title Covers, DC Gallery and Legendary Heroes.
Insert Cards
Qty
Name
Odds
Promo
50
Gold Parallel
1:6
9
First Title Covers
First Title Cover issues of Batman, Superman, Wonder Womand, Flash and others
1:8
9
DC Gallery
Showcasing the artwork of Alex Ross
1:24
6
Legendary Heroes
Your favorite heroes in lenticular motion
1:48
Sketch
Hand-drawn by artists Al Bigley (200), Allison Sohn (100), Andy Price (498), Bob Mcleod (250), Brent Engstrom(300), Brian Kong(450), Bryan Hitchen (Exclusive to Archive Box) (89), Cully Long (150), Cezar Razek (499), Dan Borgonos (225), Dan Day (466), Daniel Brandão (350), Darren Auck (347), Darryl Banks (100), Dave Fox (100), Dave Lynch (150), David Day (450), Di Amorin (250), Don Hillsman II (200), Eddie Wagner (250), Grant Gould (300), Guy Dorian (Exclusive to Archive Box) (60), Ian Dorian (Exclusive to Archive Box) (64), James Bukauskas (300), Jason Sobol (200), Jeff Chandler (100), Jeff Welborn (275), Jessica Hickman (Exclusive to Archive Box) (50), Jim Kyle (250), John Czop (425), Justin Chung (125), Katie Cook (132), Louis Small (150), Lui Antonio (200), Mahmud Anjum Asrar (274), Mark Dos Santos (501), Mark McHaley (300), Mark Spears (600), Matthew Goodmanson (300), Mike Lilly (Exclusive to Archive Box) (50), Otis T. Frampton IV (100), Ray Dillion (500), Renae De Liz (300), Rich Molinelli (324), Ron Wilson (250), Sean Galloway (100), Steven Miller (225), Ted Rechlin (200), Thomas Hodges (550), Tom Nguyen (200), Tone Rodriguez (350), Tony Perna (275), Tyler Richlen (300), Uko Smith (750), Warren Martineck (200)
1:box
1
Case Topper
Exclusive autograph by Denny O'Neil
1:case
2
Dealer Incentive 1
One-of-a-kind hand-drawn sketch card from industry legend Nick Cardy or Luis Dominguez
1:3case
2
Dealer Incentive 2
One-of-a-kind hand-drawn and colored sketch card by artist Cat Staggs or Mark Spears on oversized 5"x7" sketch board
1:9case
Available Items

All items for this release are out of stock.