Manufacturer
Inkworks
Category
Trading Card
Packs per Box
24
Cards per Pack
8
Card in Set
81
Content
General Audiences
Release Date
Dec 12, 2007
Release Status
Released
Genre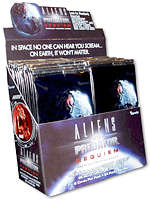 December 25, 2007, Fox releases its latest installment to the Alien/Predator franchise - their gritty, heart-pounding horror thriller: Aliens vs. Predator: Requiem. Warring Alien and Predator races descend on earth, and unsuspecting residents in a small town must band together for any chance of survival.

Inkworks brings the horrifying alien clash to an out of this world, brand new collection of trading cards. In addition to the base set, collectors can find several levels of randomly inserted bonus cards to add to this hard-hitting release including: Autograph (one per box), Pieceworks® (one per box), Sketch (one per box), Battelfield On Earth 9-card foil puzzle, Massacre On Main Street, Deadly, and AVP Unleased case loader.
Insert Cards
Qty
Name
Odds
Promo
9
Battlefield On Earth
Nine-card foil puzzle
1:11
6
Massacre On Main Street
1:17
10
Autograph
Signed by the stars of the movie:
John Ortiz (Sheriff Morales)
Reiko Aylesworth (Kelly)
Johnny Lewis (Ricky)
David Paetkau (Dale)
Ariel Gade (Molly)
Kristen Hager (Jesse)
Gina Holden (Carrie)
Robert Joy (Garber/Jones)
Kurt Max Runte (Buddy)
Ian Whyte (Predator)
1:24
3
Deadly
1:24
11
Pieceworks
Featuring pieces of costumes worn on-screen during the filming of Aliens vs. Predator
1:24
Sketch
Hand drawn sketch cards from a team of sixteen top sketch card and comic artists. Each card is a one-of-a-kind, individually numbered work of art from Chris Moreno, Mark Dos Santos, Tone Rodriguez, Cynthia Cummens, Lee Kohse, David Rabbitte, Daniel Cooney, Rich A. Molinelli, Kevin Graham, Ingrid Hardy, Jeff Zugale, Randi Lamb, Kate Bradley, Kristin Allen, Rafael Navarro, and Matt Wendt.
1:24
1
AVP Unleased
1:case
2
Retailer Incentive
"Fighting Back" - two unique Puzzle Pieceworks® available only to retailers who pre-order multiple cases. For every 2 cases ordered receive either one PW-12A or PW-12B. Equal numbers of each are available and quantites will be distributed evenly.
1:2case
Available Items

All items for this release are out of stock.