Manufacturer
Topps
Category
Trading Card
Packs per Box
36
Cards per Pack
5
Card in Set
72
Content
General Audiences
Release Date
Aug 27, 1997
Release Status
Released
Genre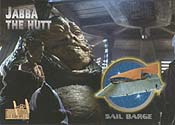 For the first time ever, in a brand new, fully detailed, all-encompassing, beautifully rendered set of cards, the Topps company is bringing to you everything you could possibly want to know about the STAR WARS galaxy's high-tech hardware. From Han Solo's infamous Millennium Falcon to the crafty Imperial Tie Fighter, from the schematics of Luke Skywalker's X-Wing to the massive internal workings of the Empire's World Devastators, this card set will give you an inside look at what makes these vehicles tick.

STAR WARS VEHICLES will provide the first detailed compilation ever, of the STAR WARS universe's vehicles in one all-encompassing trading card set. It presents a 72 card set of major and minor vehicles, that for the past twenty years have blasted their way on and off the screen and into our imaginations. 50 card fronts feature different vehicles, dazzlingly rendered with new art by Top Cow Studios (Witchblade, The Darkness, Cyber Force). The card backs include detailed blueprints and technical specs for the vehicle featured on the front of the card, with text written by Bill Smith, author of the best-selling Essential Guide to STAR WARS Vehicles and Vessels.

The 50 card basic set will be illustrated by some of the hottest artists in the comic book industry: Brandon Peterson, Trent Kaniuga, Nathan Cabrera and many more -- all from Top Cow Studios. And with the title card drawn by none other than Marc Silvestri himself, this trading card set will be hot!!

Here's the Breakdown for STAR WARS VEHICLES card set:

Card 1: Title card- drawn by Marc Silvestri
Cards 2-50: Dynamic comic art from Top Cow Studios
Cards 51-59: Informative battle specs
Cards 60-63: Special subset featuring the Millennium Falcon's inner workings
64-71: Character Cards including Luke, Han, Boba Fett and more!!
Card 72: Checklist featuring art from Top Cow Studios

With the inception of this, a card set of universe-spanning proportions, the bonus insert cards themselves had to measure up. All new, never before seen technology has been used to create the first STAR WARS multi-level Cutaway Trading Card ever. Four cards, showcasing the nefarious Slave-One, Luke's X-Wing Starfighter, the Imperial AT-ST(Chicken Walker), and the stolen Shuttle Tyderium will have a see-through, fully rendered acetate overlay, allowing the viewer to peel away a layer of the vehicle, and see everything from the outside armor plated hull of the ship, to its delicate inner workings.

There will also be two STAR WARS VEHICLES 3D insert cards. The artwork for these cards will come from a newly commissioned piece of art by acclaimed STAR WARS artist Chris Moeller. The full 3.5" x 5" image yields two 3-D cards each measuring 3.5" x 2.5". These cards will be randomly inserted... one in every 36 packs. As an added bonus, there will be a consumer redemption offer. A randomly placed redemption card will replace a regular card in every 360 packs, and when redeemed, the consumer will get the special 3 1/2" x 5" full color 3D card of the Chris Moeller painting in its entirety.

STAR WARS VEHICLES will be the talk of the universe as soon as it hits the shelves, so don't get left out in the cold. Luke Skywalker did not find the ice planet of Hoth to be very fun at all...

STAR WARS VEHICLES will be sold five cards per pack, and will retail for a suggested $1.99 per pack.

Available Items

| | Name | Price | |
| --- | --- | --- | --- |
| set | Star Wars Vehicles | $24.00 | Add To Cart |